Hampton Inn Blytheville
35.9312

,

-89.87531
Blytheville

,

United States

|
63US$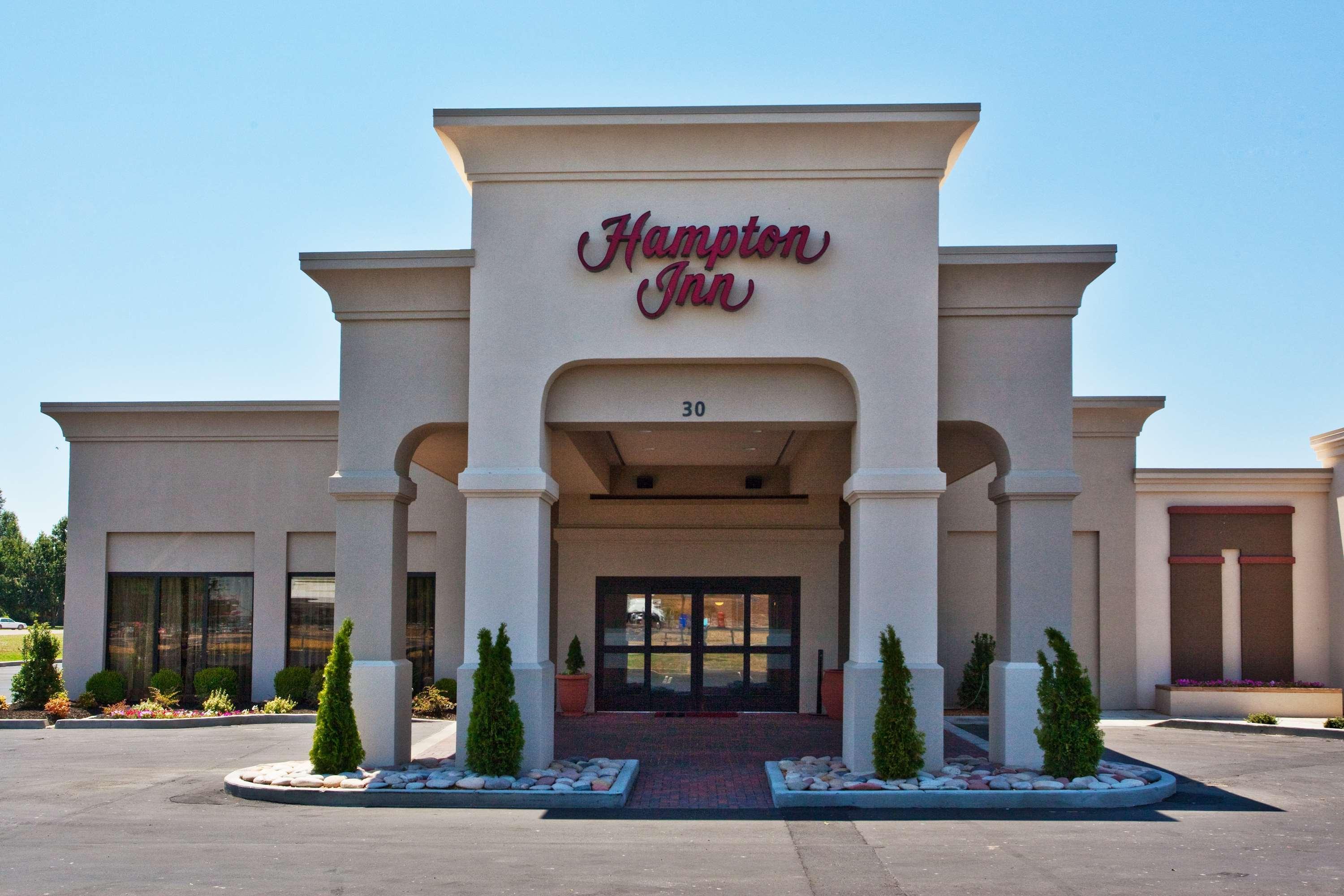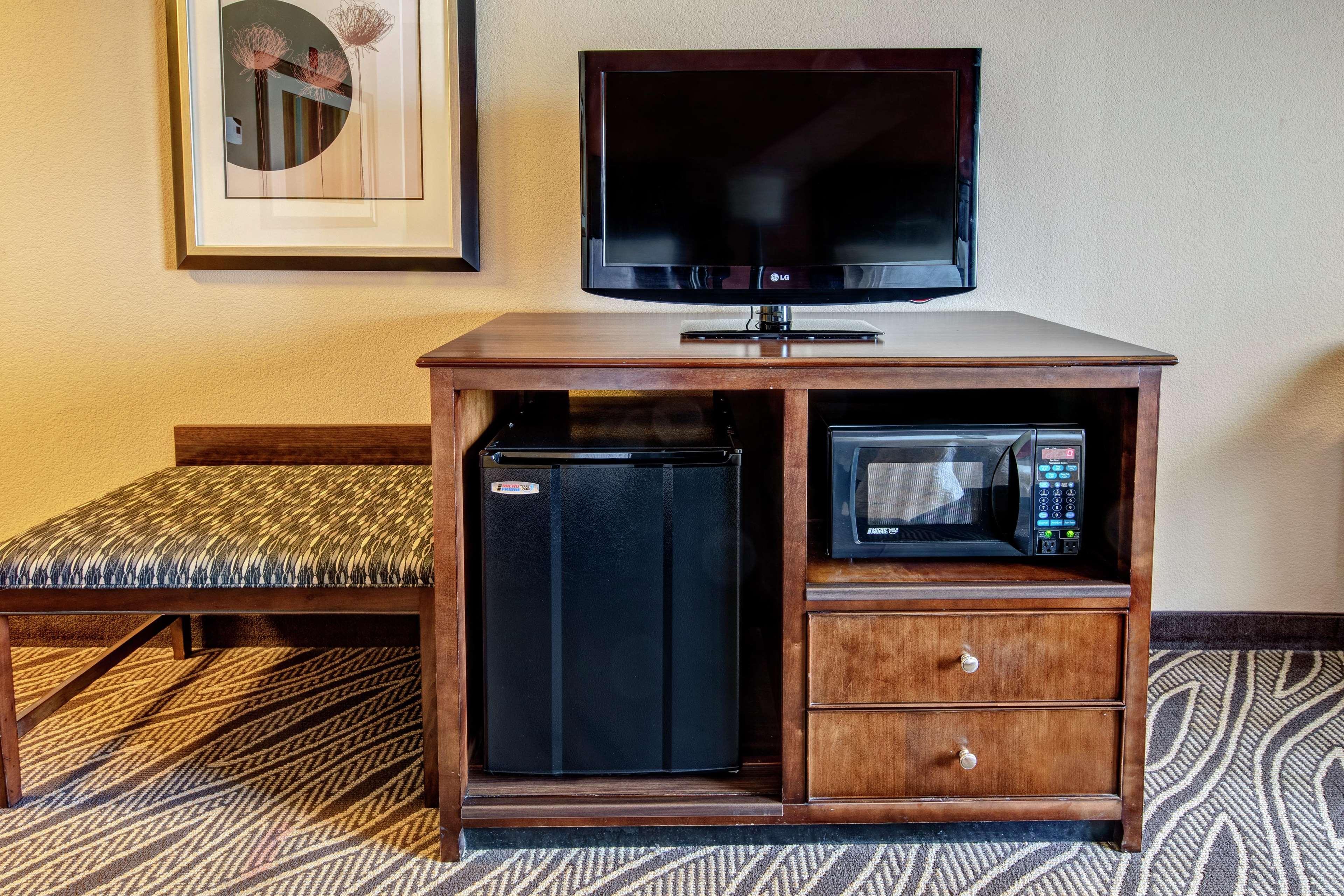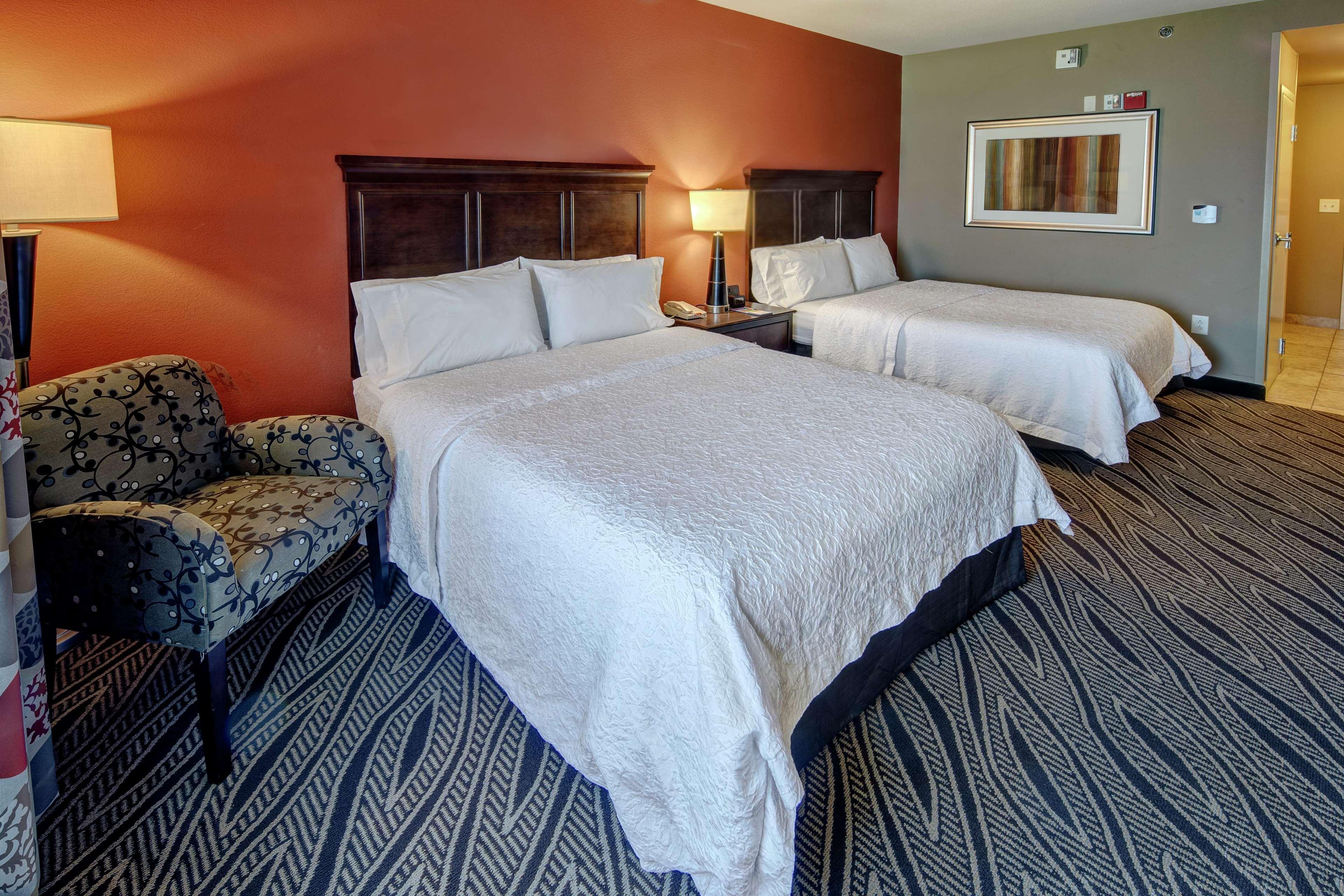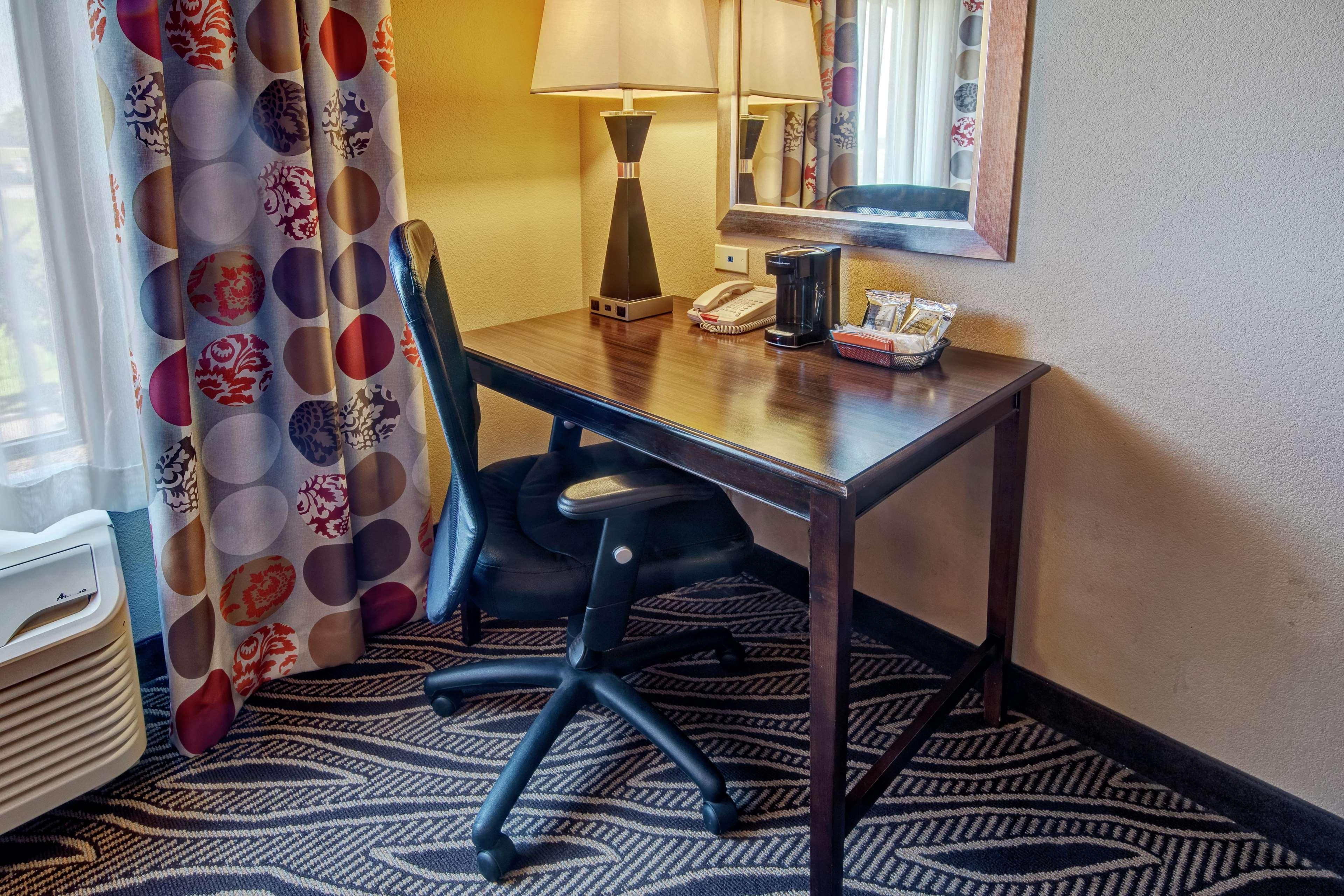 Address
301 N. Service Road I-55
,
Blytheville
,
Arkansas
,
United States
,
72315
, Arkansas
Overview
Comprising 70 rooms, the 3-star Hampton Inn Blytheville is approximately 25 minutes' stroll from Delta Gateway Museum. This inn offers WiFi in public areas and has a desk and a xerox.
Location
The the Blytheville hotel is 1.3 miles from Walker Park. The accommodation is situated in walking distance from a Mexican restaurant and an industrial park. This hotel is located a 10-minute drive away from Thunder Bayou Golf Links.
Thanks to a location at the edge of expressway, Hampton Inn Blytheville is well-connected with other parts of Blytheville.
Rooms
Providing a separate toilet, some bathrooms come with hairdryers and bath sheets.
Eat & Drink
El Alcapulco pampers guests with Mexican dishes and lies a short way from this Blytheville property.
All visitors are offered a buffet breakfast for a fee. 
Leisure & Business
The hotel provides an outdoor seasonal pool and a golf course for an extra charge. Guests can take advantage of a hot tub and an outdoor swimming pool. The Hampton Inn has a fitness center. There is a 24/7 business center available for corporate travelers.
Internet
Wireless internet is available in the entire hotel for free.
Guest Parking
Public parking is possible on site for free.
Year renovated:   2012.  Number of rooms:   70.
Best-Rated Hampton Inn Hotels around Blytheville
Hampton Inn is a famed hotel brand that prioritizes the comfort and convenience of its guests. The brand's value lies in its personalized service, clean and spacious rooms, and sumptuous breakfast spread. The hotel also offers a range of amenities like a fitness center, pool, and free Wi-Fi to make the stay of guests enjoyable. Experience the ultimate relaxation at Hampton Inn.
159 reviews

199$ / night

47 reviews

113$ / night

114 reviews

132$ / night

130 reviews

69$ / night

52 reviews

69$ / night

82 reviews

118$ / night

143 reviews

187$ / night

48 reviews

121$ / night
Facilities
General
Wi-Fi
Parking
Baggage storage
24-hour services
Food/ Drinks
Fitness/ Gym
Swimming pool
Spa and relaxation
Sports & Fitness
Fitness center
Golf course
Services
Room service
Dry cleaning
Dining
Breakfast
Restaurant buffet
Business
Business center
Meeting/ Banquet facilities
Fax/Photocopying
Spa & Leisure
Seasonal outdoor pool
Spa & wellness center
Room features
Air conditioning
Heating
Sitting area
Tea and coffee facilities
Ironing facilities
Bathroom
Bath/ Shower
Hair dryer
Free toiletries
Media
Flat-screen TV
AM/FM alarm clock
Good to know
Check-in
from 15:00-23:59
FREE
Check-out
until 11 am
FREE
Children & extra beds
There are no extra beds provided in a room. 
There are no cribs provided in a room. 
Pets
Pets are allowed on request.
Rooms and availability
Queen Room Mobility or hearing accessible

Bed options:

Max:

3 persons
Standard King Room Hearing accessible

Standard Queen Room Hearing accessible

Location
301 N. Service Road I-55
,
Blytheville
,
Arkansas
,
United States
,
72315
, Arkansas
City landmarks
Nearby
Restaurants
Hotels nearby
Trinity Baptist Church
4800 ft
Church
Pilgrim Rest Baptist Church
5000 ft
Aldersgate United Methodist Church
5100 ft
Eastside Church of Christ
1.3 mi
Church
Gospel Lighthouse Church
1.4 mi
Ridgecrest Baptist Curch
1.4 mi
Museum
Delta Gateway Museum
1.7 mi
Memorial Baptist Church
1.4 mi
Church of the Lord Jesus Christ
1.5 mi
Fairview Baptist Church
1.5 mi
Morning Star Baptist Church
1.6 mi
Greater Jeremiah Spiritual Church of Christ
1.6 mi
Mount Moriah Baptist Church
1.6 mi
True Light Baptist Church
1.6 mi
First Missionary Baptist Church
1.6 mi
T C's Air Conditioning
1.7 mi
Saint Luke Missionary Baptist Church
1.7 mi
Nehemiah Temple Church of God in Christ
1.8 mi
First Christian Church
1.9 mi
Church
First Lutheran Church
2.0 mi
Church
First Baptist Church of Blytheville
2.0 mi
Blytheville Municipal Airport
2.1 mi
Northside Church of Christ
2.2 mi
Church
First United Methodist Church
2.2 mi
Church
North 10th Baptist Church
2.2 mi
Progressive Baptist Church
2.3 mi
First Presbyterian Church
2.3 mi
Church
Blytheville First Assembly Of God
2.4 mi
Trinity Baptist Church
3700 ft
Getting around
Airports
Jonesboro Municipal (JBR)
53.8 mi
You can book a shuttle, once your reservation is complete.
Reviews of Hampton Inn Blytheville
Alison

The breakfast was good with a lot of variety and well-stocked. The location was convenient and easy to find. Also, the elevators were efficient and quick.

The room was way too cold and the thermostat was confusing. The phone was not working and the bathroom only had a shower. My complaints to the staff were not taken seriously and my issues were never fully resolved. Customer service was poor. my stay was not enjoyable.

Karen

Spent Xmas night on a road trip and the hotel was perfect for a relaxing night. Check-in was a breeze and the room was clean and comfortable. The location was ideal, just off the highway, and the hotel offered complimentary coffee and breakfast in the morning which was a nice touch. The staff was friendly, and the facilities were well-maintained.

The breakfast was a little underwhelming compared to other hotels I have stayed in. It wasn't bad, just not as extensive as I had hoped. But overall, it was a great experience, and I would definitely recommend it for anyone passing through the area needing a comfortable stopover.

John

The complimentary breakfast was a great way to start each day. The omelettes were a hit and there were plenty of waffles too. The location was perfect as it was close to everything we needed and made it easy to explore the area. We also enjoyed the comfortable beds and the fact that the room was quiet at night.

The air conditioning was a bit too strong and we couldn't figure out how to adjust the temperature. It was either too cold or too warm so we ended up turning it off at night. Also, the shower pressure was weak and it took a long time to get hot water. it was a good stay and we would come back for the breakfast alone.

Edward

This hotel was ideal base for exploring Blytheville, really enjoyed it.

David

A wide array of restaurants to eat close by, like Grecian Steak House that was only 5 minutes' walk away. The breakfast staff was doing a nice job. In addition, free Wi-Fi was useful.

Stephen

The hotel was very clean.

missing

Clenliness and friendly staff

No small workout area -- even just weights would be nice

missing

The people were very nice .the location was ok but getting to places to eat was difficult .

missing

Breakfast was good, liked the room pretty well, people was nice, it was late when we got there

The people that was standing out by the front door, around the building was a little scary, understand the job was down that theyworked ,just scary

missing

The room and bath were attractive.

The quality of the food at breakfast is poor if you're used to having steel cut oats, whole grain bread, fresher fruit, etc. I did like the bananas, hard boiled egg, raisin bran and coffee.

missing

The facility is clean, up to date, beautiful, accommodating. Also the breakfast food and the breakfast area was AWESOME. Beautiful, great quality, great variety and just a pleasure to be in.

Wish you had an INDOOR pool.

missing

Felt like home away from home. Last hotel I was in Orlando a true dump this was like my home clean and welcoming.

Needed biscuits at breakfast bar.

missing

I didn't like one kitchen lady. She was not nice.

missing

Blytheville was the mid-point in our long trip. The Hampton was wonderful, it was clean, the beds comfortable and they allowed our cats. I would definitely recommend.

missing

Had no complaints, our stay was excellent
FAQ about Hampton Inn Blytheville
What landmarks can I find in vicinity of Hampton Inn Blytheville?
Staying in Hampton Inn Blytheville, you shouldn't miss Blytheville's main landmarks such as Delta Gateway Museum (1.4 miles), Thunder Bayou Golf Links (2.8 miles) as well as Walker Park accessible with a 5-minute drive.
Is there parking at the Hampton Inn?
Yes, the Hampton Inn features a parking lot available onsite.
Can I have breakfast at the 3-star Hampton Inn Blytheville?
Yes, guests can enjoy buffet breakfast provided by the 3-star Hampton Inn Blytheville.
What time is check-in and check-out at Hampton Inn Blytheville?
Guests of Hampton Inn Blytheville can check in from 3 PM to 11.59 PM and check out from 11 AM.
Which amenities are included in the rooms of the Blytheville hotel?
Some rooms of the Blytheville hotel welcome guests with a mini-refrigerator, free WiFi and a work desk.
Does the Blytheville inn offer facilities for business travelers?
The Blytheville inn conveniently features a desk and a xerox as well as a 24/7 business center on-site.
What sport activities at Hampton Inn Blytheville can I take part in?
At Hampton Inn Blytheville guests can attend a fitness center available on-site or make use of fitness classes and a gym area.
What spa facilities does Hampton Inn offer?
Spa facilities in Hampton Inn include a hot tub and an outdoor swimming pool.